Getting up from your chair safely can be difficult and that may prevent you from getting on with everyday activities. Staying in your chair for long periods of time will also increase the risk of getting pressure ulcers. Our Occupational Therapy team can discuss ways to help you be more mobile and show you gadgets to make getting off your chair easier.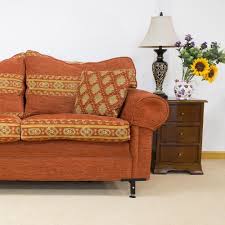 Chair raisers may be useful if your chair is too low and you are having difficulty getting up from the chair. We have a range of raising blocks including innovations from Langhams and Morris Alexander that you can look at and see which would work best in your home. But if your chair is the right height for good seated support and you still have difficulty getting up, then raising the chair is not recommended, as this will affect the support you get from the chair and may affect skin condition, posture, and health.
Chair arms that extend to the front edge of the seat give better support when pushing up from a chair and chair arms with easy grips are better still. If the arms of your chair don't support you to stand, there are rails that can be added to your chair.
Rails and frames are available to assist you to get up from a chair. Talk to our OT team about the options. Grab rails on the wall by the chair may provide support to get up, or the couch cane or Stand easy rails that fit under or alongside the chair might help you to stand. You might find that the solution is the brilliantly neat 'Hi-riser' walking frame, which supports you to push up on its lower and then higher handles as you rise from your chair, the frame folds flat for storage so may fit neatly beside your chair until you need it. We have these gadgets at the Independent Living Centre, come and try these with us and see what helps you to get up from your chair safely.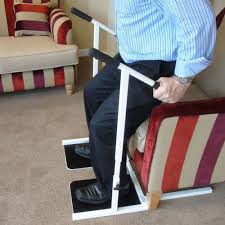 Seat lifting devices can be added to your chair to help you stand. We have the hydraulic uplift seat and the Mangar lifting cushion and the newest design the SitnStand inflatable rising seat cushion. They all operate in different ways and have different advantages and visitors to our centre have the opportunity to try all three and see and find the best solution.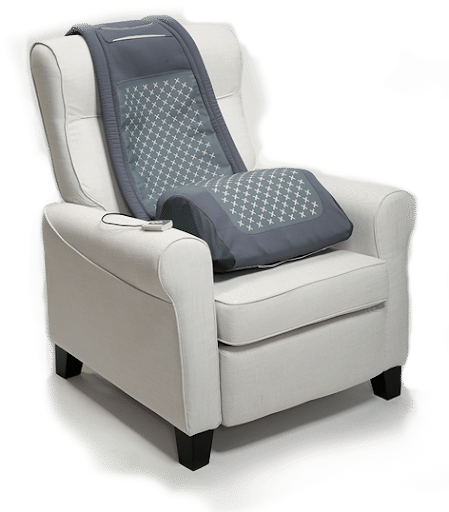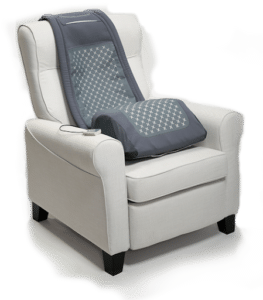 Powered rise and recline chairs are designed to help you into a standing position as well as recline in comfort. We have a selection here that you can try and our Occupational Therapists can measure you and explain the importance of getting the right fit and the other useful features of these chairs. The chair may be single or dual motor, they may have a tilt in space recline position or a flat seat recline. We can help you choose between button back, waterfall back and the more supportive lateral support cushions and head supports. We can also give you information about local suppliers who sell chairs that may meet your needs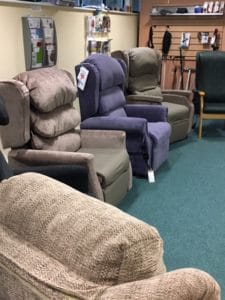 Standing equipment may be the solution to support someone who is helping you to stand up from your chair; you can visit us to try the Samhall turner, the Ambiturn, and the Molift Riser which are all neat and portable and designed to help you rise to a standing position and then turn smoothly to sit on a wheelchair or commode. They all have quite a small footprint so don't take up too much room at home.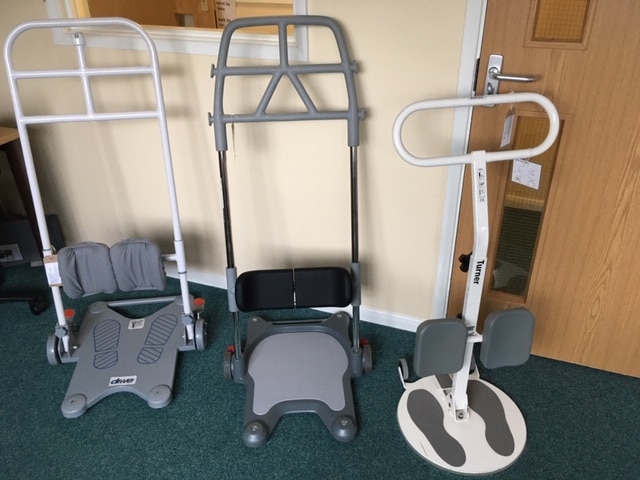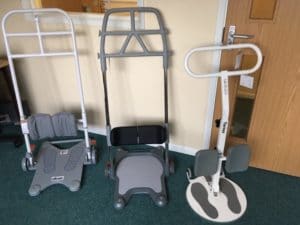 Powered hoists may be the solution for getting up from your cair safely if you are unable to stand or walk independently. We have mobile standing hoists and full lifting hoists for you to try. If you are considering using a powered mobile hoist in the future then it may be useful to come and find out about them and see how they work.