If you prefer a shower to a bath, we can advise you about shower layout, trays, screens, and controls as well as grab rails and seats that might help you shower independently and safely.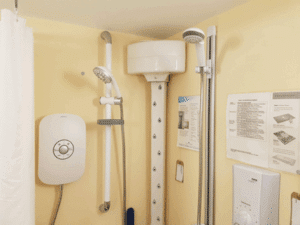 Shower trays come in all shapes and sizes and our Therapists can show the shower set up that we have here and talk to you about the difference between a low-level shower tray a level access shower tray and a wet room designed shower we can demonstrate the advantages and disadvantages and give you a list of Devon installers.
Non-slip mats are recommended to reduce the risk of slipping over in the shower tray, but be aware that the small suckers of these mats will only stick to a dry, dust and oil-free surface, and if not stuck securely they will slide. We can show you non-slip strips and dots that can be stuck permanently to your slippery shower tray and let you know where you can buy them.
Shower screens reduce splashes in the bathroom and may keep you out of the draughts when showering. A full-height shower screen makes access difficult if you need assistance when showering. The combination of half-height screens and a curtain can ensure you have some privacy and the person helping you can stay dry too! If you have a wet room you could do without a screen completely to give more space to move about the room. If you require assistance when showering in a wet room, we can show you portable shower screens that can protect your helper too. If you are thinking about updating your shower or bathroom give us a call or visit us to talk through the range of makes and models as well as local fitters and suppliers.
Grab rails can be fitted to walls, or floor, or from floor-to-ceiling to make showering safer for you. You can grip them for support while washing or when stepping in or out of the shower cubicle. Bathroom-fitted grab rails should be plastic or have plastic ends fitted to the wall to comply with health and safety regulations. Grab rails with extra grip features are safer when using them with wet hands like the  Natural Grip rail design from AKW, which combines grab rail strength into a shower head pole, saving space and providing support in just the right place if you stand when using the shower.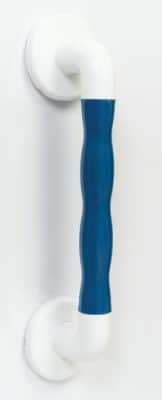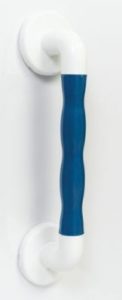 Shower control units usually have thermostatic temperature control to ensure the water temperature is safe and comfortable. It is important to choose a shower control unit that you can operate safely, some are more fiddly than others. We have easy-grip designs as well as an RNIB-designed shower unit from AKW, with tactile controls to make showering safer and easier if you have a sight loss. We can also show you a shower that can now be controlled by an app on a mobile phone to regulate temperature and flow.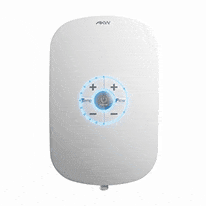 Shower seats support you while you wash in the shower and it is often safer to be seated in the shower. We can show you small shower seats for when space is limited, seats with more support if your strength or sitting balance is unpredictable. We have wall-mounted shower seats if you need to fold it away for others to use the shower and wheeled shower/commode chairs which may be essential if you can't safely walk to the bathroom and you have a level access or wet room style shower. Our Occupational Therapy team can help you find the right shower seat for you.
Body Dryers may help to give you independence in the bathroom. We have the full height Apres body dryer in our shower layout, you can see how easy it is to use and consider if that would be the best solution for you. We can give you advice about other ways to dry yourself after using the shower.
Non-slip flooring is a good choice if you are about to give your bathroom a makeover. We can show you the flooring in our shower room and samples of alternatives and also give you information about local companies who can carry out bathroom adaptations.
Care alarm pendants are usually splash-proof and can be worn in the shower to summon assistance. You can talk to us about care alarm services that provide these in Devon.
Extreme temperature alert can be used in the bathroom to alert a carer if your bathroom air temperature has become dangerously cold or hot. These can be supplied through a care alarm service or set up with your smart home system. Give us a call to discuss the options.
Flood alert sensors can be fitted as part of a care alarm service, to alert you when water is spreading across the floor but they do tend to give false alerts when used in the shower area. An alternative may be more effective shower screens or we can share information with you about press button shower timers that stop the flow after a given time to prevent the risk of floods in the bathroom.
The Sure stop switch is a simple switch that can be mounted to an accessible surface at home to activate a stop-clock if there is a risk of flooding. It can be installed to turn the water off in specific rooms at certain times of the day. We can show you how this works and where it might be useful in your home and how you can get this installed.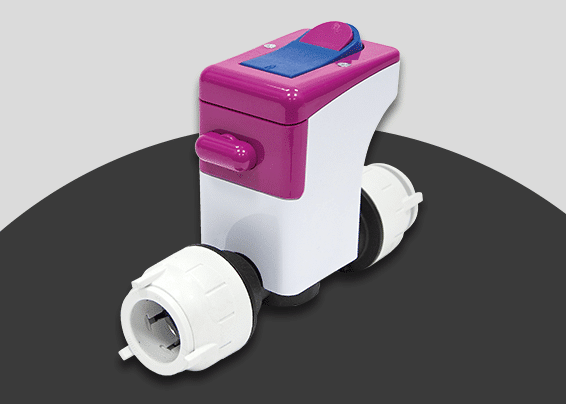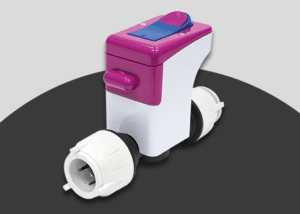 Sensory loss: Devon has some great local services to support people with sensory loss to find equipment and solutions to stay safe and independent at home.
Devon in Sight (Devon Association for the Blind): www.devoninsight.org.uk
Jasmyn House Sensory Resource Centre For Torbay residents (Sight & Hearing): 01803 527776
See Hear Centre Barnstaple For North Devon residents (Living Options): 01271 373236
Sound Base: For Exeter and East Devon residents  01392 424018
The national Charity The Thomas Pocklington Trust can give information and advice about gadgets and appliances to help anyone living with sight loss www.pocklington-trust.org.uk