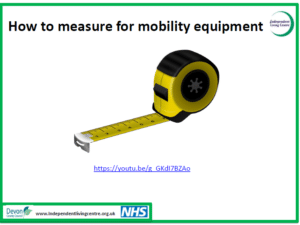 We run a diverse programme of equipment training for Devon staff which includes practical hands on equipment training as well as virtual training sessions. See here for dates and events.
New equipment prescribers in Devon can find out more about our service on a short YouTube film: 'Introduction to the ILC & frequently asked questions' email us on ilc-exeter@devon.gov.uk and we will send you a log in to view this.
Devon equipment prescriber  E- LEARNING
It is a mandatory requirement for Devon Equipment Prescribers to complete this e-learning alongside Millbrook PIN training. The E-Learning must also be completed before staff can attend the ILC Assessment & Fitting of equipment training. Please see this document for instructions on how to access the E-Learning.
Practical Equipment Training: Nothing beats hands-on equipment training so that you can get to know the equipment and technology that will be part of your equipment prescriber 'tool kit'. For  hands-on equipment training book onto 'Assessment and Fitting of DILIS Equipment'. These sessions are essential for new staff and also a good refresher for experienced prescribers. We have one more training date for 2023, please follow this link for further details.
2024 Training dates are now available for booking and can be found on this link.