Bed grab handles are a simple and neat solution to help you move in bed and get in and out of bed. Some bed grab handles are designed to be supported under the mattress and some clamp to the bed frame or under the bed. Rail choice will depend on the type of bed you use and how much hand strength, arm movement and balance you have. When you visit us you can try out the range of rails and find out what will work for you. Follow safe fitting guidance to avoid risk of entrapment.

Bed ladders and canvas handles can be looped onto bed frames to give you a handy grip when turning over, moving or sitting up in bed. We have a selection from Hospital Direct and our Therapists can help you find a style that suits you and will fit to your bed.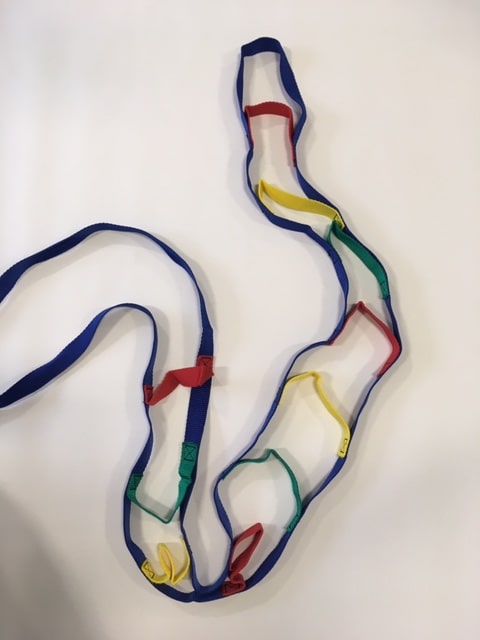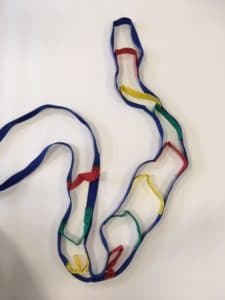 Bed hand blocks are simple hand-held supports that help you to move yourself around the bed and get up from the bed without your hands sinking into the mattress! We find that they are often the most simple and effective solution for you to use. Come and try ours and see how you get on.
The powered pillow lift and 'mattress variator' may be a solution for you are unable to use grab handles and loops. These powered devices are placed under or on top of your mattress and you use the buttons on the handset to bring you into a seated position for getting up and out of bed. You can talk to our Therapy team about these devices at the Independent living Centre and you can try them out to see if they would be safe and comfortable for you.
Profiling beds are height-adjustable and fully profiling to raise and lower the head and knee sections for even weight distribution and comfort. These beds are brilliant but can be complicated and are easily adjusted incorrectly, which can compromise your comfort and skin health. Our Therapists can guide you through the functions of the handset so that you can facilitate movement and find a supported position for restful sleep, comfort and skin health.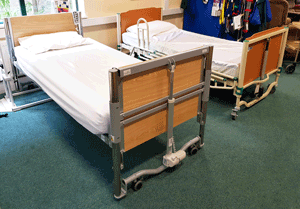 Slide sheets can be useful to reduce friction when you get in and out of bed or when you change position in bed. If someone is helping you to move or to get in or out of bed, slide sheets can make this easier for them too as well as more comfortable for you. You can try out our selection of slide sheets and choose which works best for you.
Leg lifters can be used to help with lifting your legs into bed, which may be difficult because of swelling in the feet and legs or reduced mobility and strength. At our equipment demonstration centre we have a long handled canvas leg lifter, which you might find useful to lift and guide your legs into bed. If someone is assisting you to lift your legs into bed we can help them to do this more easily with a selection of leg lifting slings and techniques. We also have some powered leg lifters that you can try. This one from Mangar  is inflatable and fits to the side of your bed to lift your legs up to bed height, they don't work for everyone but they are worth trying.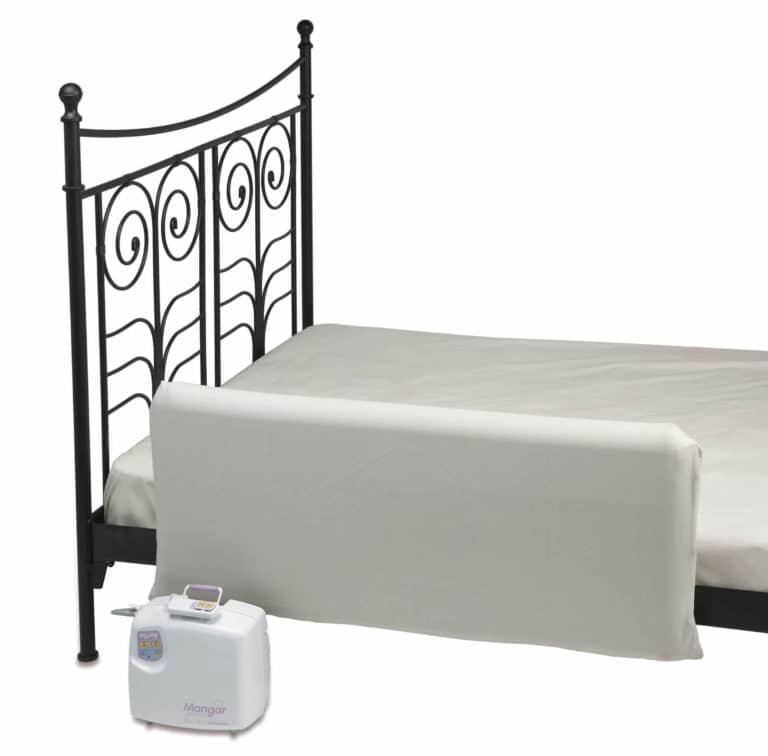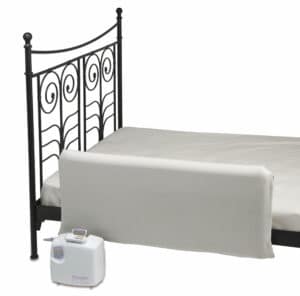 Sometimes a lower bed makes it easier to get your legs into bed and we can help you find the best bed height for you. However, people often find that if they get the bed low enough for getting their legs into bed, then it may be too low for standing up from the bed! Luckily our range of profiling, height-adjustable beds can help you find a height that enables you to stand from the bed and also get your legs safely into bed.
We even have the Accora floor bed, which can lower you down to floor level to slide legs into bed and then raises you up higher to enable safe standing from the bed.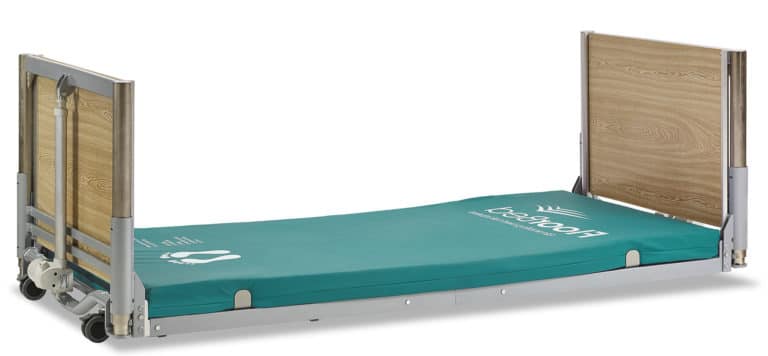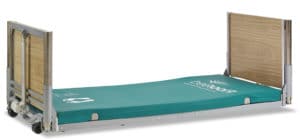 Bed raising blocks can be fitted to a divan or frame bed to make the bed height just right for you. We have a selection of bed raising blocks here and can discuss with you which type would suit your bed and home décor best.
Standing equipment may be needed if bed-height adjustment and bed grab rails haven't proved to be the solution to standing up from your bed. You can try a selection of standing equipment at the Independent Living Centre. You might find that the solution is the brilliantly neat 'high riser' walking frame, which supports you to push up on its lower and then higher handles as you rise from your bed, it also folds flat for storage so may fit neatly beside your bed until you need it. We also have some solutions to support someone who is helping you to stand up from your bed; you can visit us to try the SamHall Turner, the Ambiturn and the Molift Riser which are all designed to help you rise to a standing position and then swivel you smoothly to sit on a chair, wheelchair or commode. They all have quite a small footprint so don't take up too much room at home.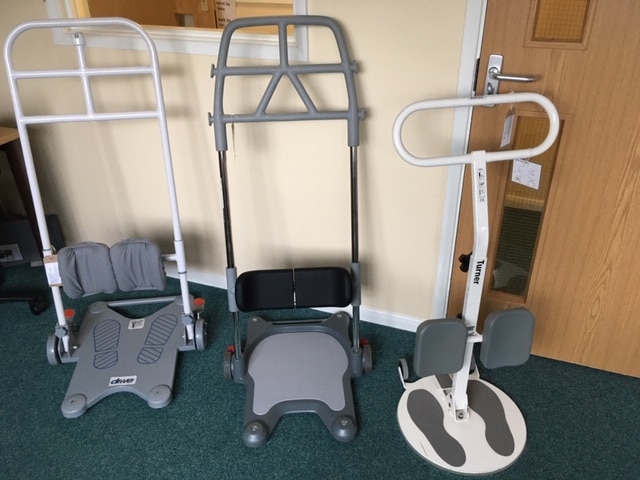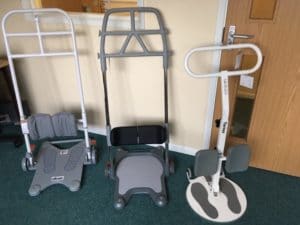 Powered hoists may be the solution for getting out of bed safely. We have some mobile standing and lifting hoists for you to try. If you are considering using a powered mobile hoist in the future, then it can be useful to come and find out about them and see how they work.
Transfer boards may be used to move from a wheelchair or commode to the bed. People often visit us to try our selection and to work out the right height for their bed to be when doing this movement.