If you are concerned about moving around safely in your bedroom you can visit us or talk to our Occupational Therapists about layout and safety features to keep you safe.
Bed height is an important factor if you are afraid of falling out of bed. If your bed is too high then you might find you are sleeping on the edge of the bed and any movement may result in a risk of falling from the bed, visitors to our centre have been amazed at the difference made by this simple adjustment to their bed height, to enable them to get fully into the middle of the bed and reduce risk of falling off the edge.
Bed safety rails fit securely each side of your bed to keep you safely positioned at night; but if you need to get up during the night to visit the bathroom for example, then this won't be possible with the bed safety rails in place. You can talk to our occupational therapists about safe and accessible alternatives. Be aware of fitting guidance to avoid entrapment risk.

Bed grab handles are useful and we have several for you to try like this from OT Stores. The bed grab handles are designed as a sturdy grip when you get in or out of bed. They give you a firm grip to hold when turning in bed and help to find the mid-line of the bed and avoid sliding off the edge. Be aware of fitting guidance to avoid entrapment risk.
Pillows and cushions may help too. An ordinary bed pillow placed under your sheet, either side of you, may help to keep you safely in the middle of the bed. V shaped cushions may also help to keep you central. Putnams   make a U and a V shaped cushion which helps to give a clearly defined central area for sleeping in bed, with a comfortable padded barrier each side.
Thorpe Mill bed wedges are designed to keep you safely in the bed, and are fixed securely to a sheet with Velcro, so they can't slip out of place. You can still get in and out of bed but the soft angled wedges keep you in the middle while you sleep. Sometimes people use these soft solutions in conjunction with a fitted bed grab handle, which is positioned just below pillow height to give a clear guide to where the edge of the bed is, with space to get in and out of bed when you need to.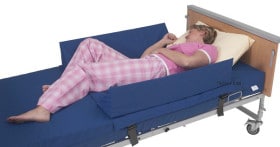 You are welcome to come and visit us for a lie down, to see what solution works best for you!
Our floor bed rises up to standard bed height when you get in and out, but can be lowered down to floor level for a safe sleeping position, for anyone who can't use bed safety rails but is at high risk of falling from the bed. We have one at the Independent living Centre that you can try to see if it is the right solution for you.
Technology can help to keep you safe in the bedroom. If you are caring for someone who is at risk of falls or wandering when they get up from bed or moving around at night then a bed or chair occupancy sensor or a floor pressure mat may be useful.
Occupancy sensors are placed under the mattress or sheet on the bed or under the cushion of a chair to alert an on site or close by carer to be aware of a person getting up from bed or chair. The sensor mat can alert you as soon as the person has got up, or the alert can be timed so that the person can get up when it is safe to do so, for example: to go to the toilet, and the alarm will only be raised if they do not return to bed/chair in the expected timescale, as this might indicate that they have fallen. When the sensor detects movement from the chair it could give an audible alarm or alert an onsite carer via pager or a mobile phone or via care alarm call centre. This means that you can sleep peacefully knowing that you will be woken up if the person you care for gets out of bed.
Floor pressure mats may be the best solution if the person is at high risk of falling at night and someone else at home must be aware as soon as they get out of bed.
Movement sensors can be fitted to walls of doorways to alert a carer that someone is on the move at night. The sensors can be stand-alone items with audible alert or connected to a care alarm call centre or be set up as part of your smart home technology. You can talk to us about what is available and we can help you find the right solution for you and let you know which Devon service might provide this for you.
Lighting is important in the bedroom, so that you can have darkness when you need it for sleep and appropriate lighting for safety and independence at night or on dark winters mornings. We can show you our favourite 'quick fix' lighting solution, which is the plug in movement sensor light. These can be positioned in power sockets around your room in hallways and landings and near bathroom doors and they will light up as you move toward them, illuminating your way to the bathroom or to the main light switch and reducing the risk of falls or disorientation. We can also demonstrate side lights that are operated with a remote switch and lights that can be switched on and off with a smart home technology.
Curtains may be difficult to reach and heavy or awkward to open and close and curtain opening and closing may be important for your safety in the bedroom. Technology can be installed to enable you to open the curtains for daylight and close for privacy whenever you want. Most curtain suppliers will supply a simple pull cord or automated curtain open/closer system; give us a call for information about these. If you need something powered, we can show you a simple system that operates at the touch of a button or through a remote handset.
Clocks and reminders are useful in the bedroom to help distinguish day from night. We can show you simple clocks with a clear illuminated digital or analogue display and clocks which let you know the time of day for example 'Daytime', 'Night-time' in words or pictures or clocks that can be personalised to with a message to help you do the right thing for example 'stay in bed until 7 am'. These clocks work well to help with orientation and reduce the risk of wandering at night. Most of the clocks are set up to dim the illuminated screen at night.