It is important for your health and wellbeing to keep hydrated and this can be difficult if you are unable to reach or hold your drink independently. If you have any problems with chewing or swallowing we recommend that you seek advice from your GP or a Speech and Language Therapist.
If weakness, reduced range of movement, or tremor has made eating and drinking difficult, come to our Therapists for advice. If you sit in an armchair, a dining chair, or a wheelchair we will look at ways to create a stable and functional seated position so that you can reach for your drink or have the drink supported within reach.
Reminders may be useful if you forget to drink throughout the day. These could be set up on your mobile phone or we can show you apps that help you to plan and remember your daily routine. See our app reviews. We also have a range of electronic reminders that can give you audible or visual reminders during the day or night to help you keep hydrated. You can see the Droplet in action at the Independent Living Centre which is a cup or mug with a built-in reminder that will alert you when it is time to have another drink.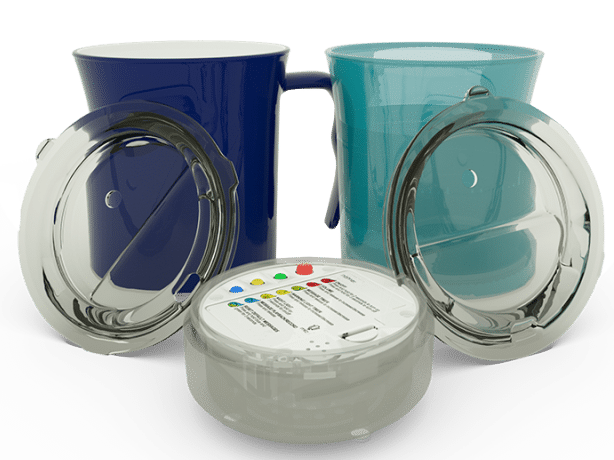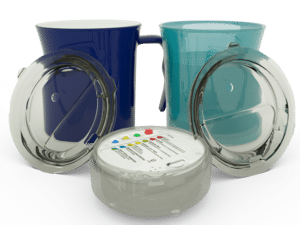 Insulated cups with lids are available on the high street as they are useful when you are having hot drinks 'on the go'. They are also useful as the lids with sipping holes reduce the risk of spills. The insulated sides keep the drink warm and the outside stays cool to touch, to protect your hands as you hold the cup. We also have some insulated cups with big handles which make holding the cup easier and safer.
Flexi cups with a cut-out help you to drink if you can't tilt your head back. The cups are also helpfully squashy so the lip of the cup can be squeezed to a narrower shape to avoid spills from the side when drinking.
Ornamin do a great range of innovative cups and we have selected the ones we think are the most useful. This cup with a cone shaped internal wall helps you to drink without tipping your head back, it has a large handle for easy grip too. We also have cups for when you are lying down, devices to reduce risk of spilling, one way straws for easy sipping and cup holders. Come and find out what works best for you.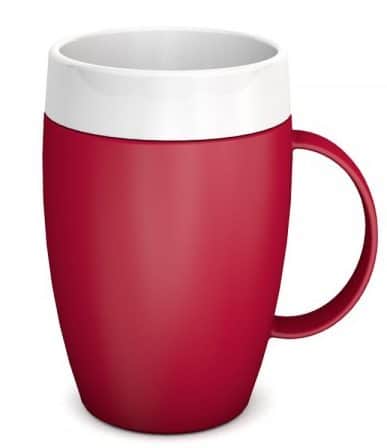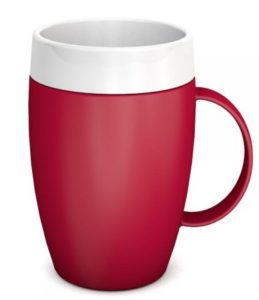 Drinking straws don't have to be disposable or difficult to use. We have a range of the best reusable straws, some are extra long and flexible and some clamp securely to a holder or to your clothes for easy access. The straws with the one-way valve are helpful as you can suck up the drink slowly and it is held up in the straw until you want another sip. Speech therapists recommend that drinking with a straw is not suitable for all, so if you have problems with swallow consult your speech therapist. We can show you alternatives when you visit the Independent Living Centre.
Non-slip mats and bases are helpful if you are concerned about knocking drinks over, we have mats in all shapes and sizes for you to try and an insulated mug with an integral non-slip base. We also have drinks systems which stay securely in place so that your drink is always within reach whether you are in a chair, wheelchair or bed.