The Occupational Therapists at the Independent Living Centre keep up to date with gadgets and innovations to help you get dressed independently. We can give you advice about DIY solutions and you can try out the gadgets that we have in our centre.
Getting socks and stockings on or off is a problem if you have problems with reach or grip.  We have a good selection of sock aids that help when it is difficult to reach your feet, or you can't grip or pull the sock onto your foot.  You can try these gadgets to find one that is right for you. Bring your own socks or borrow some of ours!
Stocking 'donners' and 'doffers' have developed over the past few years as more people struggle to get their pressure stockings on and off. We can show you the original rigid frame pressure stocking aid designed for people who couldn't stretch the stocking or reach down to their feet to put the stocking on, we also have the 'easy glide' range. The Socky from Etac is a very effective solution to getting stockings on; with a slidey surface and long handles, to reduce the need to reach down. Come and try for yourself. We also have the amazing roll on roll off innovation from Sigvaris and their stocking 'doffer' for removing your pressure stockings. We are also very interested to have the wrap-around pressure stockings from Sigvaris which can be simply wrapped and tightened and maybe the answer to your stocking problems. They are available on medical prescriptions in some parts of Devon and we can give you details of this.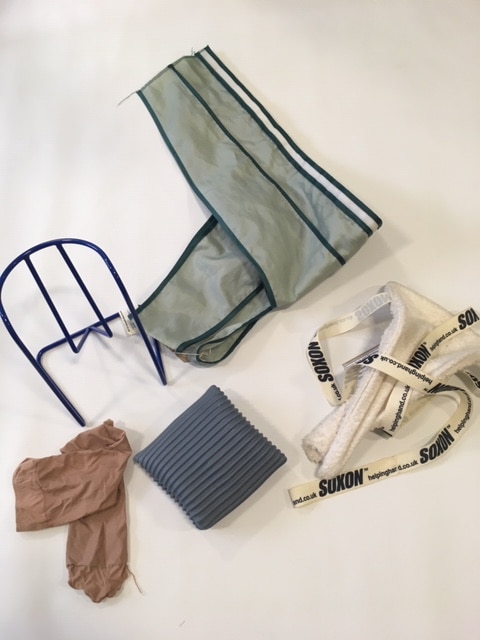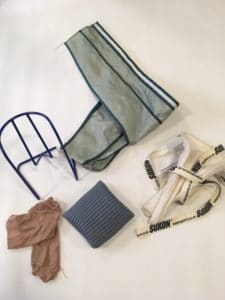 Long-handled shoe horns can also be used to help you get your stockings off but their primary function is to help you get your shoes and slippers on safely without needing to bend down.
Button hooks are a great idea and have been around for many decades. You can try them out at the Independent Living Centre, but some people find that they are too fiddly and would rather consider alternative fasteners than fiddle with small buttons.
Zip pulls make fastening a zip so much easier and these can be purchased or DIY versions can be made to match your outfit. We can show you some off-the-peg and some DIY solutions to make zips easier to manage.
Dressing sticks are also historic gadgets, that have been around for decades and help some people to finish off dressing tasks like pulling a jacket up to your shoulder or hooking out of reach trousers. Come and try our selection to see what works for you and talk to our team about dressing techniques to make it easier for you.
Helping hands are another traditional design that has been cleverly developed over the years to include a pincer for gripping out of reach garments and a shoehorn for assisting with getting shoes and slippers on. Come and try our range at the Independent Living Centre, we have different lengths as well as folding versions.
Finding the right clothes or recognising clothes may be a problem if you have reduced vision or recognising colours and garments. Colour recognition gadgets are available from the RNIB or Cobalt and our OTs can talk you through their range.
Talking labels and colour recognition gadgets are so helpful to enable someone with a visual impairment to find the right items when choosing clothes and getting dressed. We can signpost you to the RNIB and Cobalt other online specialists who supply these gadgets.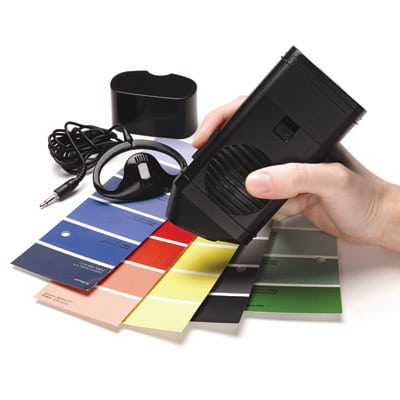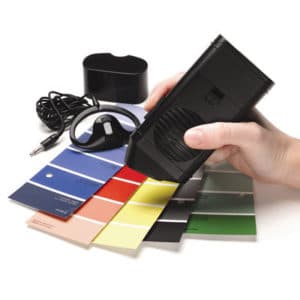 Apps are available to help with colour recognition and reading labels and our Occupational Therapists review these apps so that we can advise you about what might work for you. Be my eyes is an amazing app and service to help you get guidance and a second opinion when shopping or choosing an outfit at home as sighted volunteers can see your selection via the app and chat with you about your choices. See our App reviews on this website.