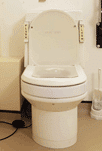 Closomat and Geberit toilet bidets can both be used as ordinary toilets, but when you remain seated after using the toilet you can activate a cleaning and drying process, with a simple press button, a foot pedal or even a light beam activation. The water temperature and pressure can be set up to suit you and you can stay seated for as long as it takes to feel dry. You can try these amazing appliances in privacy at our demonstration centre. We are now so pleased to be able to give visitors the chance to try out the NEW AKW Ergonomic Bidet seat, with similar wash and dry features, and a simple but powerful douche spray that is plumbed in beside the toilet for easy cleaning. We can tell you all about these amazing systems but better still, you can make an appointment to visit us to try these appliances in privacy at our demonstration centre to see which one works best for you.
The Soleticare in bed toilet bidet system from Novamed Europe has to be seen to be believed as it facilitates independent use of an automated collection device for when you need to empty your bladder and bowel, followed by careful washing and drying, all completed while you are lying in bed. We have seen it in action and can request a demo at the ILC if you want to see it too. Yes, it is expensive to buy but they have a very reasonable rental option which some people in Devon have already taken up.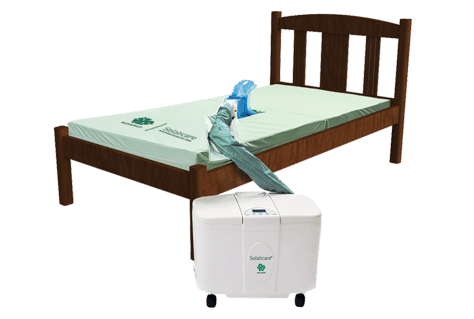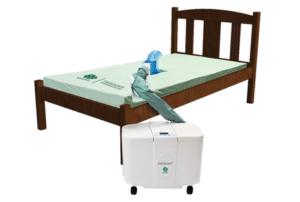 Sensory loss : Devon has some great local services to support people with sensory loss to find equipment and solutions to stay safe and independent at home.
Devon in Sight (Devon Association for the Blind): www.devoninsight.org.uk
Jasmyn House Sensory Resource Centre For Torbay residents (Sight & Hearing): 01803 527776
See Hear Centre Barnstaple For North Devon residents (Living Options): 01271 373236
Sound Base: For Exeter and East Devon residents: 01392 424018
The national Charity The Thomas Pocklington Trust can give information and advice about gadgets and appliances to help anyone living with sight loss www.pocklington-trust.org.uk
Find out more about gadgets to help clean yourself after using the toilet view our toilet equipment page.