Technology can be used in the kitchen, bathroom, bedroom, living room to help you to stay safe and independent when carrying out everyday tasks at home.
Talking labels are so helpful to help someone with a visual impairment to find the right items in the cupboard. We can signpost you to the RNIB and other online specialist who make a range or textured, braille or talking labels and lids.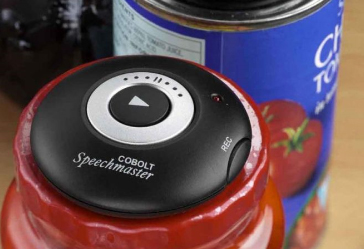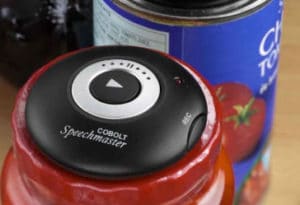 Liquid level indicators help someone with a visual impairment to pour a drink without spilling. We have this innovative gadget at the Independent Living Centre for you to try, it has been around for decades, but nothing has improved on its design yet!
Reminders devices like My Home helper can be set up to remind you when and how to carry out everyday tasks.  Apps are being developed all the time, for use on your phone or tablet, to remind you of household tasks like menu planning  with step-by-step recipes and instructions. The Independent Living Centre Therapists have been reviewing reminder apps  which you might find useful.
Care alarm systems can be installed by the care alarm services in Devon if  there is a risk of fire, flood or injury when involved with everyday tasks at home and you are unable to reach your phone to call for assistance. The care alarm service call centre is operating 24 hours a day and will contact your friends, family or the emergency services when they receive an alert.  If you are unable to use a pendant or may not be aware of the dangers at home, the care alarm service can install sensors that automatically alert the call centre wen danger in the home are detected.
Smoke alarms can be installed and linked to the care alarm call centre who would call the emergency services and a local keyholder if the alarm was activated.
The extreme temperature alert is more effective than a smoke alarm in the kitchen as smoke alarms can give false alarms when there is cooking smoke or steam in the room. The extreme temperature alarm can be set to raise the alarm when there is a temperature increase that indicates risk of a fire.
The local fire service may be able to carry out a free home safety assessment for anyone who is vulnerable at home. They may install smoke or temperature alarms and limit fire risk in the home.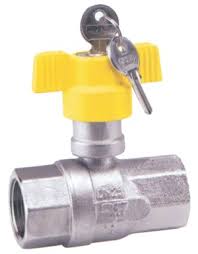 Gas appliances must be checked by a registered engineer, to ensure they are safe and not emitting harmful fumes. Carbon monoxide detectors are available as stand-alone alarms or connected to a call centre. Natural gas detectors are not effective in a domestic situation. Modern cookers have a built-in device to turn off the gas if left unlit. If carers are concerned about a person using a gas cooker when home alone, the SGN gas shut off valve for cookers is available free of charge through your local gas supplier. The valve is installed by a gas fitter, and it has a key to securely lock and unlock the gas supply to your cooker. The cooker can be fully functioning when safe to do so, but simply and safely 'shut off' with the key when necessary. We have an SGN gas shut off valve at the Independent Living Centre and can let you know how to apply for free installation of these ingenious gadgets at home.
The Innohome electric stove alarm and stove guard can be purchased to enable a person to use the cooker when safe to do so, but automatically shutting down if pans have been left on unattended or if dangerous heat is detected. Give us a call to chat about safer solutions or arrange to visit our Therapy team to find out more about appliance safety equipment.
Flood alert sensors can be used to alert you if the kitchen sink or bath has overflowed, but we can show you the simple Magi plug which prevents the flood by releasing water when the level rises too high. Taps with press button timer may be useful if flooding is a risk in the kitchen sink. We can talk you about local installers.

The Surestop switch is a simple switch that can be mounted to an accessible surface at home to activate a stop clock if there is a risk of flooding. It can be installed to turn water off in specific rooms at certain times of the day. We can show you how this works and where it might be useful in your home and how you can get this installed.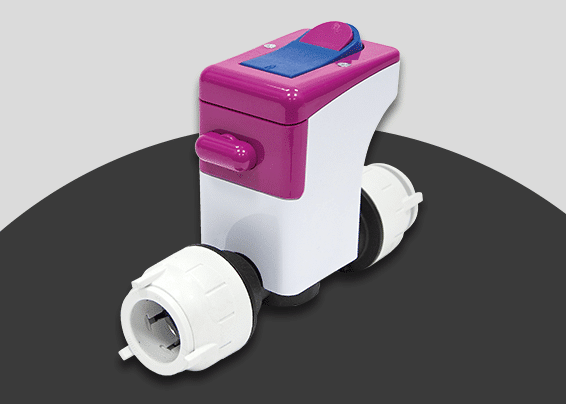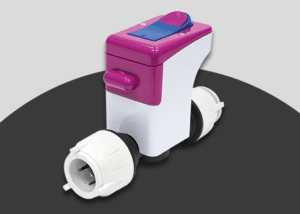 Sensory loss: Devon has some great local services to support people with sensory loss to find equipment and solutions to stay safe and independent at home.
Devon in Sight (Devon Association for the Blind): www.devoninsight.org.uk
Jasmyn House Sensory Resource Centre For Torbay residents (Sight & Hearing): 01803 527776
See Hear Centre Barnstaple For North Devon residents (Living Options): 01271 373236
Sound Base: For Exeter and East Devon residents  01392 424018
The national Charity The Thomas Pocklington Trust can give information and advice about gadgets and appliances to help anyone living with sight loss www.pocklington-trust.org.uk