Technology can be used to support you to take the right medication at the right time. Our Occupational Therapists can help you find the right solutions for you.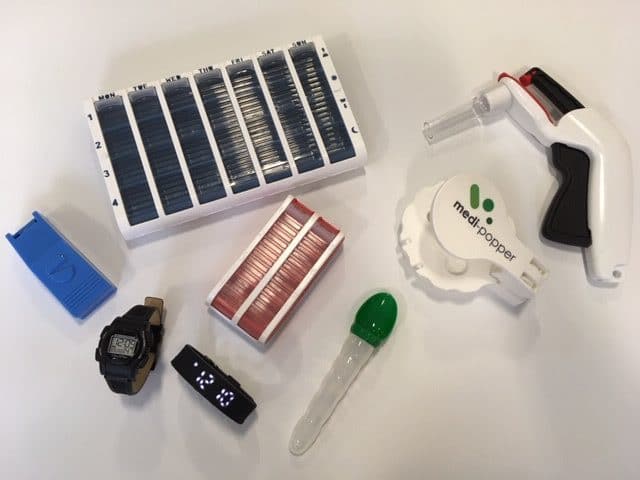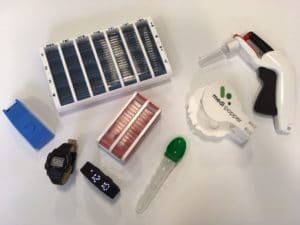 Medication storage containers with labelled lids may be all you need to make sure you take the right dose at the right time, some have braille and textured labels to help you identify the right dose at the right time.
Talking labels enable someone with a visual impairment to make sure they are taking the right medication. We can signpost you to the RNIB and other online specialists who make a range of textured, braille or talking labels. Devon has some specialist services for sensory equipment advice.
Automated pill storage devices have a built-in alarm to remind you when medication should be taken and some will open the right storage section so that you can ensure you take the right tablets. Some automated storage units like this Pivotell can be set up to connect to a care alarm call centre or to someone's mobile phone to alert them when tablets have not been dispensed. The person using the device must be compliant to take their medication as alerts act as a reminder to take medication or a message that medication has not been dispensed. Our occupational therapists can talk about the options and you can compare the devices at the Independent Living Centre. Advice from your pharmacy is recommended to check that your medication is safe in these storage devices.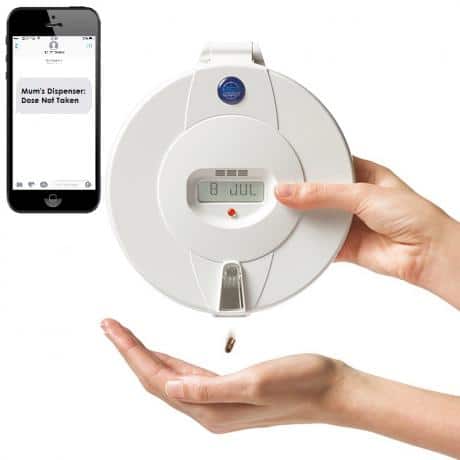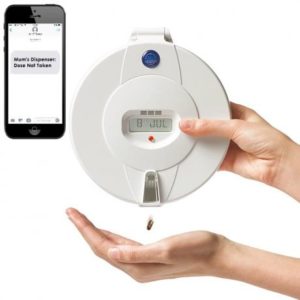 Reminder devices are standalone screens that can be set up to give audible or visual reminders during the day or night to help you take your medication at the right time. Some of these have generic messages that can be timed to suit you, others allow you to create your own reminder, which may include a photograph of the medication and where it is stored. Some of these reminders work through your Wi-Fi and can be adjusted on-site via your computer or a friend or relative can add reminders when they are on their own computers at home. We can show you a selection of these to  see what works for you, and once again these will remind you to take medication but cannot check if it has been taken.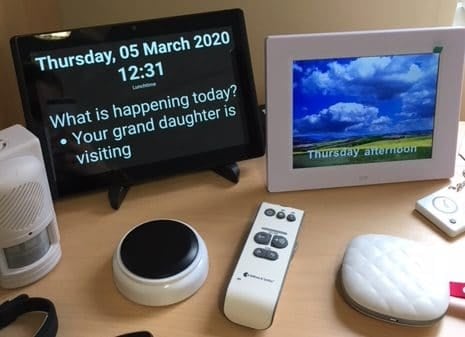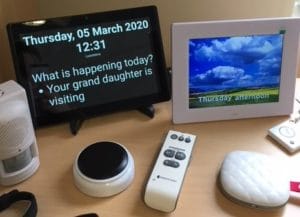 Phone apps can be added to your phone or tablet to read labels on your medication and other apps can be set up to remind you to take your medication and to send a message to your friend or family to let them know if a dose may have been missed. See our reviews of the most recent apps.
Sensory loss : Devon has some great local services to support people with sensory loss to find equipment and solutions to stay safe and independent at home.
Devon in Sight (Devon Association for the Blind): www.devoninsight.org.uk
Jasmyn House Sensory Resource Centre For Torbay residents (Sight & Hearing): 01803 527776
See Hear Centre Barnstaple For North Devon residents (Living Options): 01271 373236
Sound Base: For Exeter and East Devon residents: 01392 424018
The national Charity The Thomas Pocklington Trust can give information and advice about gadgets and appliances to help anyone living with sight loss www.pocklington-trust.org.uk