Our first-ever interactive smart home event was a huge success reaching 174 NHS and DCC professionals, students, and members of the public over 3 days. We had representatives from local suppliers across Devon showcasing the latest technology and apps available on the market. Attendees were also given the opportunity to witness technology in action via an interactive tour of the Independent Living Centre.
There is so much available to keep people safe and independent at home, it can be difficult to keep up! At our Smart Home Event, attendees were able to see some of the latest gadgets in person; including an induction hob for safer cooking and reduced risk of burns, simple-to-use mobile phones with a one-touch SOS button, and GPS trackers to allow family members to locate someone at risk of getting lost. A demonstration of environmental controls and alerts was also given to identify smoke, CO2 & extreme temperature changes, alerting family members or monitoring centres for someone unable to respond. There is quite simply a technology solution for ALMOST everything and with the right equipment in place, it could significantly improve a person's quality of life.
Our local reps gave a glimpse of their exciting and innovative new products:
Millbrook Healthcare came to demonstrate the range of equipment available through statutory provision in Devon. Jas & Neil offered their experience and expertise to answer questions about technology used to keep people safe at home. It was also great to see Possum demonstrating their range of technology which is available in Devon.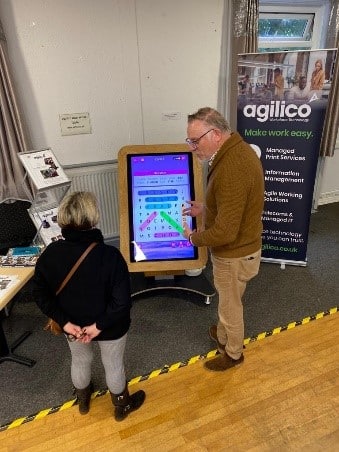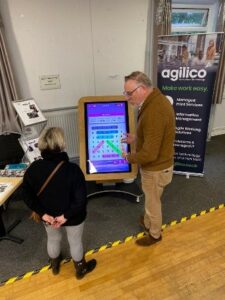 Agilico showcased their impressive touchscreen table, which could be utilised in settings such as care homes. It offers video calls to allow residents to communicate with family and friends, as well as collaborative apps and group activities to provide entertainment and promote social participation. The tables are fully portable and adjustable, enabling them to be transported around the care home environment for access to everyone.
Easy Link have an exciting GPS tracker watch with an SOS button and falls motion detection. Falls technology is difficult to find in watches so this is an interesting one to look out for.
An innovative app is AutonoMe which provides step-by-step guidance and support on daily activities; such as how to make a cup of tea and how to put laundry on. Devon has unlimited licenses for this service, meaning they will accept a referral for anyone who meets the eligibility criteria. See their website for more information.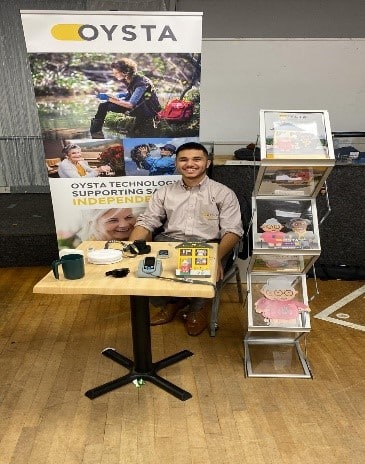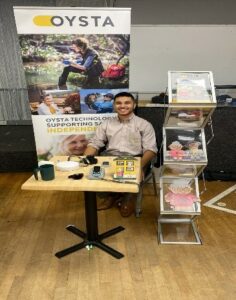 Oysta Technology demonstrated their exciting new Oysta RIO system. This is an indoor and outdoor GPS tracker which can detect falls and have two-way communication calls amongst other useful features.
Home Safeguard attended to represent care alarm providers in Devon. Home Safeguard are the specialist care alarm providers for East Devon and they are always happy to help with your care alarm questions.
'Excellent session, thank you'
'Unaware until today of how technology has advanced, now have a much better understanding'
'Really informative and lovely staff. Be great to have longer as didn't realise so much tech out there!'
If you missed this, we will be holding a yearly smart home event with the most up-to-date and innovative technology and we are always available at the Independent Living Centre to help with those technology conundrums.
Technology is forever changing and hard to keep up with so keep up-to-date from our social media and website for our latest technology updates & information, newsletters, and our before-you-buy guides.

   Website: www.independentlivingcentre.org.uk

Twitter: @ILCDevon

  Facebook: @DevonILC